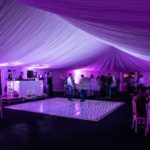 Marquee hire for gardens in Stockport is your solution to closed venues and too many rules. Have your event at your own home. It can be outside in the fresh air where there's room for a crowd without being crowded. Even formal events are more relaxed outdoors which adds to the fun. We assume you do want the event to be fun. A marquee hire broadens the parameters for fun. You can have fun with the decorations, music and food because nobody else can dictate terms to you. Everyone can go home when they want to; early or late. If a core of your friends want to hang around for hours, this venue isn't going to throw them out. We make putting this garden party together easy for you.
Have you had enough of the costly birthday venues designed for children? In Stockport, marquee hire for gardens can be so much more special for your birthday boy or girl. You won't be crammed into one little room. There's room for the parents to hang out if they want to. Wouldn't it be great to open the presents while the guests are still there instead of all by yourself after the guests are gone?  Kids venues don't allow enough time for opening presents. It's here's your pizza and drink; hurry up. Sing Happy Birthday, hurry up. Eat your cake, time is almost up. Gather your stuff and empty the room. It's uncivilised. Kids spill food and drinks. They play around tables and chairs. They can get really loud. When the party is in a marquee, it doesn't matter. Relax, have fun and break some water balloons.
When you call on us for marquee hire for gardens in Stockport we help with everything else too. We have the furnishings including tables, chairs, bars, bar stools, lighting, fans, heater and more. We're going to show up the day before and put the marquee up. Everything else will be delivered and set up well in advance. We'll be back the following day to take it all away and remove the marquee. If this sounds like a good plan for your next event, contact Signature Event Hire and let's discuss your plans. Marquee hire for gardens is a good plan for all sized events including book clubs, charity meetings, baby showers and more.