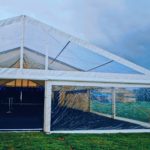 Marquee hire for gardens in Macclesfield is an excellent solution when you have found the perfect garden for your event. It could be your own property or that of a relative or friend. Imagine having an event – from a birthday celebration, a kitchen tea or a surprise baby shower – in a beautiful garden. With affordable marquee hire, you can invite as many guests as you would like. You will also be able to set your own time and not be hampered by restrictions set out by a hired venue. We offer a range of quality marquees for hire, all perfect for use in a garden. You will find that our marquee hire is affordable, flexible and can be tailored to suit your requirements.
For your celebratory event in Macclesfield, marquee hire for gardens means that you can decorate your marquee in line with your celebration's theme. If you are planning on having a garden theme, what better way to bring the outdoors in with a clear span marquee? Our marquees are strong, weatherproof, and can be installed on just about any surface. You will also be pleased to find that when you hire a marquee from us, we will take care of both the setting up and taking down. Our marquees are available with flooring, and we have a range of furniture that you could choose from. We have over 20 years of experience in providing top quality marquee hire to all our clients. We would be pleased to do the same for you.
Marquee hire for gardens in Macclesfield is the perfect way to ensure your event's success. For details about our affordable marquee hire, contact Signature Event Hire today. The sides of our marquees can be opened to allow for the perfect view. If your event is on a beautiful hot day, the open sides of the marquee will provide, not only a stunning view but also fresh moving air. When the weather turns, the sides can be rolled down, keeping everyone warm and content while enjoying the celebrations. Marquee hire from our team is sure to provide the venue you want, where you want it.