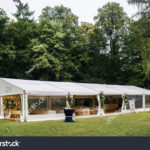 Marquee hire for gardens in Lancashire is an excellent idea if you are wanting the perfect venue for an event. What better than hosting an event in your own garden? Or in a garden of a relative or friend? Planning an event, from a garden party, child's birthday party or a wedding celebration takes careful thought. Included in the planning is the venue for the event. The venue should be just right, perfectly suited to the number of guests, the style and theme of the event, and of course, at the right cost. There a great number of reasons why hiring a marquee from us is an excellent option.
We offer a range of different sized, clear spanned marquees. In Lancashire, marquee hire for gardens takes away the need to find a suitable restaurant or hall for your event. With a marquee, you can invite as many guests as you wish without worrying about the amount of available space. A marquee also allows to you to decorate as you lease, without the restrictions some venues have in place. Best of all, a marquee is easy to set up and take down again after the event. In fact, our expert team will set up your hired marquee a few days before your event and will take it down the following day after the event. The marquees can be set up on lawn, sand or cement, making it easy to use in any garden.
Marquee hire for gardens in Lancashire are easily available when you discuss your requirements with our team. For more details about our stunning marquees available for hire, contact Signature Event Hire today. Our marquees are great for use in any weather, as the sides can be rolled up or down. You are also welcome to speak to us about our range of fantastic marquee accessories and furniture available. You can choose form tables and chairs, dance floors, chandeliers and more, all designed to add that special something to your event. Make your garden party the event of the season with our wonderful marquee hire for gardens.