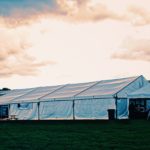 Garden parties and marquee hire in Chester go together like sunshine and flowers. So, if you have something to celebrate in the near future, why not make it a garden party? It will be a lovely relaxed event and we can help you make it a success. The first decision is the venue. If you have a lovely garden space, your event can take place at home. If you need a venue, we can offer an impressive list of recommendations. Garden parties are exactly that; parties held in the garden which is outside. The setting may be woodsy, an abundance of flowers or maybe lakeside.
Whichever outdoor venue you choose, a marquee will add a festive touch. However, in Chester, marquee hire is far more than just a backdrop. Your next step is the guest list. We have marquees to accommodate parties large and small. A marquee provides a protective place for the food. If you would like recommendations for a caterer, we know the best ones. You may roll the sides up so the marquee is open with just a protective roof. If it's a particularly sunny day, your sun sensitive guests will find a shady place to gather. If the late afternoon air turns cool, drop some or all of the sides. We even have heaters we can place around inside. We won't discuss rain, but our marquees close up tight.
A marquee hire in Chester will usually require tables, chairs, bars, and if you are preparing the food yourself, dinnerware, table linens, glassware and centrepieces. We have a nice selection of all those items. If you hire a caterer, they may supply the tableware. We provide a comprehensive service that leaves you free to enjoy your own party. We'll deliver and set up the marquee well ahead of your party. All tables and chairs will be set up as well. When the party is over, we'll be there to take the marquee down and collect it and all the tables and chairs. Contact Signature Event Hire and let us help you plan a spectacular event. If you do decide on a garden party, be sure to tell your lady guests to wear their biggest and most stunning hats.