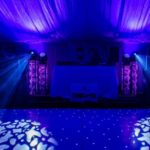 Dance floor hire in Prestbury is a great recipe to spice up your party. Parties are among the hardest events to organise. They require a lot of planning from the venue and decorations to sound set up. The needs of an event vary depending on the occasion, expected turn out and your budget. There are key aspects you need to consider when organising an event. Food and drinks are a must have. Depending on how long your event will last, you can serve anything from snacks to whole meals. For most big events, food and drinks are outsourced to outside caterers. The advantage of outsourcing is you have one less problem to worry about. Another area worth outsourcing services is the stage set up. Different events have different stage set ups. In some parties, organisers go an extra mile to set up a dance floor for the guests. If you need all these and more, it's worth calling in professional help.
Whether you are hosting a wedding or a reunion in Prestbury, dance floor hire services are certain to come in handy. A dance floor at an event offers a unique experience for guests. Instead of hustling for space to dance, a dance floor provides sufficient room for all attendees. A dance floor is the missing ingredient in an event armed with sound, lights and good music. The floor comes in different shapes and sizes. The platform is designed to provide a level ground for dance. Some unique platforms come with light fittings to accentuate the experience. Transparent dance floors allow for versatility in lighting the areas.
If you are looking for the perfect dance floor hire in Prestbury, look no further than Signature Event Hire. We are a leading name when it comes to event organisation. We organise everything from small weddings and reunions to large festivals and concerts. We set up marquees and hire equipment to serve all your needs. We also set up stages for performances and dance. Contact us today and make your event the best in town. We offer excellent deals on all our services.