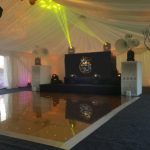 Did you know that you can book a dance floor hire in Wirral from us and we'll put it where you want it; within reason? It should be a location where there is access to electricity either for your band or at the very least charge up your Bluetooth devices. If you've got a dance floor and music then likely you will be expecting guests. You might want some tables and chairs available for their comfort between dancing. We have beer table sets that might suit your event or several other types of furnishings from which to choose.  There should probably be beer and other beverages available for your guests. We have a bar setup you might like. You might like an electric cooler to go along with that since we already have electricity to the site.
On the other hand, you really should provide food for your guests. For your event in Wirral, dance floor hire is just one of our services. You may want to supply your own food but if you need a caterer, we know the best for your particular event. A selection of street food trucks seems like a good idea for a dance event. If you're going to have a live band, wouldn't it be great if you had a raised stage for them complete with strobe lights and big speakers? We can build that stage and run the electricity to it. Speaking of lights, if this event is going to take place after dark, you should have lights. Maybe soft table lights and some twinkling fairy lights around the dance floor. Not so much light that you break the mood but enough strategically placed for everybody's safety.
So, you've got your dance floor hire in Wirral along with food, furnishings, lights, stage and music. Where would like us to put all this stuff for you? We know a lot of different outdoor venues that will make you feel welcome. Contact us and we can help arrange and coordinate every aspect of your dance and music event. The only thing we can't do is promise good weather. No worries though; we've got that covered. Hire a marquee. We have one as big as you need and we'll even set it up and take it down for you. Fantastic events are a snap when you've got us on your side.