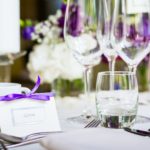 Signature Event Hire is the place if you're looking for a mobile bar hire in Wirral for an upcoming event. People often associate us with marquee hire. However, an empty marquee isn't much fun so we have all manner of furnishings, including bars. Our offerings are not just functional. We stock very nice quality furnishings that will make you proud and your guests feel valued. We offer a full event service which includes the marquee, furnishings, planning help and advice, set up and take down. We can help you place the mobile bar strategically to adapt to traffic flow. For larger events you may want a bar in two locations. Your caterer may want input as well.
If your event is outdoors, Signature Event Hire has everything you need for a successful and impressive event. For gatherings large or small in Wirral, mobile bar hire will allow serving your guests to be a smooth and professional operation. For your guests comfort select from table seating for 4, 5 or 6 people each. How about dancing? We have portable dance floors and a stage. We can set up your venue for an elegant wedding party or a casual gathering complete with lighting, catering equipment, heating and more. By hiring our mobile bar and additional equipment, you can take your event anywhere. Which brings up another service we can help you with; venues.  We have first hand knowledge of some of the best venues around.
Your mobile bar hire in Wirral and event set up with Signature Event Hire allows you to manage your event your way. You plan the schedule of events instead of following the dictates of a banquet manager. Your party can go all night if you want it too. There is no minimum or maximum guests mandate. What your budget will allow for food and drink is your primary parameters. If you're worried about party crashers, we have fences and crowd control barriers we can put in place. Contact Signature Event Hire when planning your next event requiring a mobile bar hire in Wirral. We can supply the bar and everything else you are likely to need.