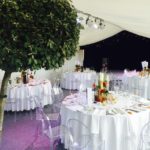 When elegance is the theme, you need to find the perfect Chiavari chairs for hire in Liverpool. Though they've been around for more than 200 years, they first came into the limelight in 1953, at the huge 900-guest reception held for John and Jackie Kennedy in Newport, Rhode Island. Today you'll see them being used to seat famous artists at the Golden Globes and the Oscars. Named after the city of Chiavari in Italy, these chairs are sophisticated, lightweight and don't take up much space. They're available in a variety of colours and materials to sync with the theme of your event. Originally manufactured from wood, today you can find them in aluminium and resin too. What makes them so popular is that you can decorate them with any number of accessories like lace, ribbons, cushions, bows, covers and tassels to go with the arrangement.
For your event in Liverpool, Chiavari chairs for hire are available at Signature Event Hire. We are the leading marquee hire company in the Cheshire region and beyond. Just tell us what you need, along with the blueprint for your theme, and we'll ensure that you get the right furniture, dance floors, round tables with suitable chairs, chandeliers and uplighters, herras and crowd fencing, bars, scaffolding, steps, ramps, stages, displays and our special collection of catering equipment. Our highly talented, dedicated team can assist you right from planning, logistics and capacity advice to final hand-over just before the event begins.
Chiavari chairs for hire in Liverpool are a great way to add to the décor in the venue. They are also known as Tiffany chairs and are loved around the world for their elegance, ease of stacking and portability. To find out more about our Chiavri chairs for hire, contact Signature Event Hire. It is recommended to select cushioned ones, as they'll make your guests feel more comfortable. They can be dressed in so many ways, because of their classic, open-back pattern. If you'd like to cover them completely, this can be done in a variety of fabrics. Or you could cover only the backs perhaps with a gauzy, see-through fabric that shows off the classic lines of the Chiavari.