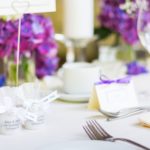 Signature Event Hire for chair and table hire in Cheshire is the answer to your additional seating requirements. We know you can rent or borrow chairs and tables from other places. However, we offer style options from the Chiavari manufacturing company. This particular brand is among the most popular in the world for looks and quality. Your event may require simple folding chairs for seating and that's fine, especially if it's just for an hour or two. They should still be full sized and comfortable. If it's a seminar or speech, you want your audience to be focused on the speaker; not their uncomfortable chair. Our high quality chairs are expertly arranged by us to your specifications to create a welcoming and attractive setting.
Of course, we have a selection of sturdy tables suited to your particular event. For your event in Cheshire, chair and table hire from us assures elbowroom for your guests. We offer round banquet tables designed for 5 people or a bit larger to seat six. For more intimate seating, you might prefer our square tables that seat 4 people. Your event may want to utilise a combination of table sizes. Our event staff will deliver and set up your tables and chairs according to the best use of space and an eye to easy traffic flow. Lovely linens, tableware and decorations for both tables and chairs are available. We also offer other items of furniture that you may find useful. For instance, bars, bar stools, lounge chairs and more.
Chair and table hire in Cheshire assures you a pleasant customer service experience. Our team will arrive to deliver and set up and again manage the prompt collection after the event. We have twenty years of experience in the business so expect professional service. We're happy to share that experience if you have questions or seek advice on selection and arrangements. Contact Signature Event Hire and schedule a time to visit us.. We'll discuss your event and make recommendations that will fit your needs and your budget. Our event planners are on hand to share ideas for your successful wedding banquet, awards ceremonies, musical performances and celebrations of all kinds.