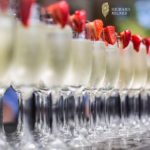 Why not give us a ring about our wedding marquee hire in Mobberley if you are planning on getting married? We will be pleased to assist in making your wedding reception an outstanding success. Our marquees are beautifully appointed clear span and modern marquee structures. They come complete with floor installation. They can be erected on any surface including grass, tiles, concrete and sand. The great news is that not only do we supply the marquee, but we also supply different accessories and furniture. All our equipment is maintained to the highest level of hygiene and cleanliness. We also supply dance floors with lighting, heating and PA systems.
Planning a reception can be challenging, especially with variable weather conditions. In Mobberley, wedding marquee hire allows you to plan your wedding reception in any place you want. You can choose to have your reception on the beach, in a favourite park or a place that has special meaning to you. The weather will be the least of your concerns. We ensure a personalised service for all of our clients and we take the time and effort to help you have a stress free experience for your big day. Our coordinators will work with you to find the perfect set up for the wedding reception, from how the tables and chairs are placed to the platform for the wedding party table. We can also supply table decorations in your chosen colours and will match all your accessories to your colour scheme.
Wedding marquee hire in Mobberley from our team is ideal for any sized wedding. We have a combined experience of over 30 years in the business and our team consists of structural engineers, operations and events specialists and highly experienced grounds people. For more information about how we can assist you with our wedding marquee hire, contact Signature Event Hire today. With our experience and facilities, we are able to provide the perfect setting for any size event or festival. This includes stages and VIP areas as well as bars and seating. Ensure your wedding reception is as perfect as you wish with wedding marquee hire from our team.