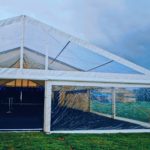 There are so many ways marquee hire in Altrincham can make your event as relaxed as you want it to be. You choose the ambience; festive, elegant or subdued, depending on the occasion. You can match the size of the marquee to the size of your guest list. With us, your organisation can rent as many marquees as needed for your Farmers Market and Seasonal Craft Fairs. You collect the vendor's fee and maintain some control and order over the appearance of the event as a whole. These marquees are very festive and can even be used for your neighbourhood block party or your child's backyard birthday party. Their appearance adds to the excitement and designates the focus point. These kinds of events are just not as enjoyable when held inside.
The size of an indoor venue compared to the size of the guest list can be a real source of contention for large celebrations. In Altrincham, marquee hire provides the solution.  Maybe you've felt it yourself when attending an event. You are seated at a table for eight but twelve place settings are crammed in. No worries about elbows on the table in this setting; there's no room. The tables are spaced so one server can fit between if he or she is turned sideways. Don't even think about getting up from the table and getting in their way. As the host, you want your guests to socialise with each other. They can't do that if they can't make their way across the room. Hire a marquee and spread the seating out so everyone, including the servers and the children, can move about with ease.
A marquee hire in Altrincham does not limit your dining, dancing, or entertainment options. We have marquees in every size. We can supply and set up the tables and chairs, lay a floor if you choose or just a dance floor. We can set up a stage and make sure there is electricity for the band, caterers, lights and heaters. What if it rains? Our marquees have drop sides with windows and are dry inside. Contact us if you're planning an event and let us show you the many options we offer. Events from weddings to family reunions to funeral dinners can be done your way and in your time frame when you hire a marquee for the event.