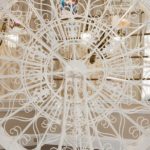 A wedding marquee hire in Chelford is the outdoor wedding solution. You've dreamed of getting married at a location that is meaningful to you or perhaps to both the bride and groom. It could be your grandmother's estate or a local scenic venue. But, you don't want to give up the festive dinner, dances, speeches and well-dressed guests. You understand that your guests will be all ages and you want to accommodate their comfort. Even warm summer nights turn cool. Nobody wants to put a sweater on over their party clothes or sit at a table with freezing feet.
We have all sizes and styles of marquees for hire. For your wedding in Chelford, wedding marquee hire lets you create every detail of your wedding. Our experienced staff will work with you to bring your ideas to reality. Your colour scheme, your menu and caterers, your time schedule. We supply elegant furnishing for your wedding marquee; electricity for lights, band and caterers. We can floor the whole marquee area or just install a stage and dancefloor. Flaps can go up to catch the daytime sunny breeze and close down at night. Heated flooring is an option. We have a large marquee for hire that even has real windows. If you wish, we can recommend some of the best caterers, florists, musicians and more for your wedding.
For your wedding marquee hire in Chelford, our staff is available to assist from set up to take down. Our experience allows us to negotiate some of the more troublesome aspects of wedding planning with ease. Contact us and plan your wedding your way. One more benefit of a wedding marquee for your celebration is time; you have plenty of it. We set the marquee up a week in advance so you can work your magic with the interior. We'll take it all away the day after your event. If you want a six-hour dinner dance celebration filled with toasts and speeches, you have time. Dinner can be served in a more leisurely fashion without all the plate banging by harried servers.  The two of you, the bride and groom, will have time to personally thank your guests, spend some time with them and enjoy your own party.