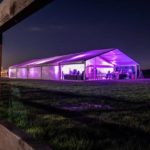 Marquee hire in Manchester is a marvellous alternative if you are not keen on holding your event in a building. A marquee offers many benefits. You can choose any venue of your liking, suiting your convenience and preference with a marquee. The number of guests you would like to invite is no longer limited by the size of the venue, as an event in a building can place restrictions on the number of attendees. Hiring a marquee is also a cost-effective and affordable option.
You may also want to decorate the venue according to the specific theme you have chosen. In Manchester, marquee hire allows you to do just that. When you hire a hotel room or function venue, you may be restricted to the existing décor, and their policies may not allow for further decoration. When hiring a marquee, the design choices are limitless, as you can decorate it as you wish. Food is the one aspect of your event that your guests will remember, long after the event is over. Marquee hire allows you to choose your own caterers, something that you wouldn't be permitted to do if you were hiring a function room at a hotel. With all these benefits, it makes perfect sense to hire a marquee for your event. Why not give us a ring today and find out how we can help you with the perfect marquee for your event?
Marquee hire in Manchester is available at competitive prices. We are pleased to say that we provide a wide range of marquees to suit all your requirements. To find out more about our affordable marquee hire, contact Signature Event Hire today. Hiring one of our marquees is an easy process. Let us assist you in choosing just the right marquee for your upcoming event. Once you have made your choice, we will install the marquee during the week prior to the party. We will then dismantle it the week after your event. A large selection of marquee accessories such as lighting, heating flooring and furniture and catering items are also available, should you require them. Ensure a successful event with affordable marquee hire from our team.