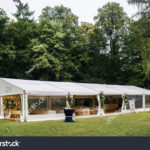 Marquee hire in Hale Barns has been a big saver for many corporations and individuals holding events. Setting up a venue for an occasion is a daunting process. This is mostly due to the challenge of space and how to use it. It is important to outline your needs when planning a big event, be it commercial or social. First, consider the nature of your event. Each event has its own needs, especially concerning the venue and the premises. Are you planning your dream wedding? Is it your child's birthday party? Is your neighbour stranded days to their newborn baby's christening, marquee hire is definitely the go-to help route.
Some may ask what the importance of marquee is. In Hale Barns, a marquee creates the atmosphere of the event. The set up can be customised to match your needs. In addition, the wide range of set-up designs caters for all seasons of the year. There is no limit to what you can do with marquee hire. When deciding on the type of tent and the placement, it is vital to work with a professional team. The team assists you with the whole process of setting up and setting down. Moreover, the team offers necessary guidance on what is best for your needs, as well as ideas of set design for your ideal venue. The services offered also include the set up of chairs, lights and décor. At Signature Event Hire, all the services are offered to you at competitive costs.
For the best marquee hire in Hale Barns, look no further than Signature Event Hire. We are a highly skilled team that has over 30 years' experience in the trade. Both cooperate and private clients make use of our services. We are known for providing top quality marquees for weddings, festivals and other big social events at affordable rates.  If you are looking for a relaxed, pocket-friendly way to plan the perfect event, do not hesitate to contact us. Our team is as friendly as our rates. Our marquees can be installed at a venue of your choice, ensuring a memorable event.