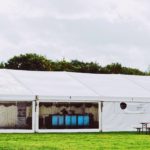 We offer value packed marquee hire in Knutsford for all your special events. Not only do we supply and erect the marquee but we also provide a variety of other items to hire such as flooring. Our marquee flooring can be set up on any surface including grass, tiles, concrete or sand. Our wedding marquees are clear canvas which allows you to design your own look. The marquees come complete with floor installation. When you have a wedding you need music and dancing to celebrate this special day and we can help you to decorate the marquee to your taste. We offer a wide variety of seating depending on the design and decor of your function. Our chairs, tables and ottomans come in a range of different colours and we also have pallet furniture and beer table sets. All our equipment is spotlessly clean and set up for you in the manner you desire.
There are many reasons to celebrate occasions and we supply the equipment for all of them. In Knutsford, marquee hire is just the beginning. Our team are expert at setting up hire equipment for festivals. This includes seating and other furniture as well as crowd barriers, dance floors, lighting and heating, stages and a public address system. We have our own structural engineers who will make sure the stage and lighting is safe and strong. We have VIP areas as well as bars and all the necessary accessories that go with making a festival a success.
Our marquee hire in Knutsford is just one of the elements of our company. Contact Signature Event Hire today and book our services for your special day for a truly memorable occasion. We have over 30 years combined experience in the event and structural industry and our team offers personal service to all our customers. Our hire charges are extremely affordable and we will also advise our customers on many other details which will leave you free from the stress of having to arrange everything yourself. We are event planners who will take care of all the organisation of your special celebration including all the seating, lighting and we even hire out bars.