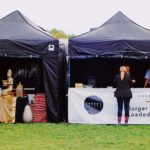 Top-quality marquee hire in Hale Barns is a reality thanks to Signature Event Hire. We are a well-established supplier of event furniture and marquees for special occasions. As a specialist event furniture and accessories supplier, we customise solutions to help make your special occasion stress-free and memorable. A marquee completes the look of a venue. It adds character, definition, class and a sense of festivity when combined with the right accessories. We design our marquees to don the character and mood of the event being celebrated. It provides a safe space for outdoor events especially in our country where weather can play spoilsport once too often. Our special event marquees can be adapted to accommodate all events  covering birthdays, christenings, weddings, pre- and post-wedding events, garden parties and Christmas do's. Yes! Almost any and every kind of event that you could be planning to celebrate with friends and loved ones.
For your event in Hale Barns, marquee hire from Signature Events makes eminent sense for a number of reasons. Firstly we make it simple and easy for you.  All you need to do is give us some basic information – the kind of event, number of guests and the location. Leave the rest to us. Be it a setting for a festival, a wedding or a dance party, our expert teams will be at hand to set it all up and at affordable prices too! We provide seating arrangements including gallery, table and VIP seating, lighting, and heating equipment wherever necessary, stage construction, corporate events and more. We have a wide range of tables, chairs, types of lighting, décor and decorations for you to choose from. We also include Event Management as an additional service for one-stop-shop convenience.
Marquee hire in Hale Barns just got easier – the Marquee people are here! Our expert teams arrive with their efficient plug n play systems and before you know it the venue is up and ready, exactly the way you dreamed it would be. Let the party begin. To find out more about our marquee hire, contact us today. We want you to enjoy the event along with and as much as your guests.