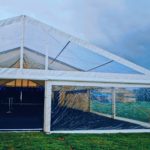 Consider marquee hire in Chelford for your upcoming event. There are numerous benefits to hiring a marquee. They are easy to install and take down, they can be placed just about anywhere, and they are more affordable tan hiring a conventional venue. A marquee is great if you plan on selling home crafts at a fair, or if you have a conference with delegates from your company. They are also ideal as wedding venues. If you would like to find out more about affordable marquee hire, speak to Signature Event Hire.
For your event in Chelford, marquee hire is an excellent option. Not only are they more affordable than a conventional venue, they can be decorated to your requirements. Many conventional venues do not allow decorating and you would have to use the venue as it is. With a marquee, you can add decorations, banners, in fact almost any type of decoration to make your event unique and personalised. Not only do we offer a range of stunning marquees, we also offer accessories, flooring and assistance. Our marquees can be set up on different types of ground; these include sand, grass and tiles. Our dedicated and expert team is available to assist you in planning your event. This includes advice on capacity and sizes, as well as logistical planning. Our team is also available to deliver a friendly professional, set up and take down before and after your event.
Marquee hire in Chelford also includes a number of other services. These include furniture and accessories you may need for your event. We are happy to supply lighting, heating, flooring and well as an extensive collection of furniture and catering items. For more information about our marquee hire, or to request an affordable quote, contact Signature Event Hire as soon as you have planned the date for your event. Other than marquees for festivals or smaller events, we also provide marquee hire for weddings. Choosing a marquee for your special day eliminates the need to find a suitable venue. With our marquees, you can have your special event just about anywhere you would like.