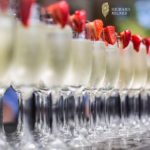 Consider a wedding marquee hire in Manchester as you search venues for your wedding and reception. A marquee hire could be your solution if you keep encountering obstacles to carrying out your vision for your wedding. So many indoor venues have ready-made lists of restrictions for you to review before they ever tell you what you can do. Restrictions include how many people you can include, acceptable decorations, limited menus, severely limited time frame. Even the events such as cake cutting, live music, speeches and more are scheduled according to the venues time frame. Now, all that makes sense of course, otherwise those important highlights might never get scheduled in. There has to be a plan and a schedule to prevent chaos. When you hire a wedding marquee, you get to decide the plan and schedule.
You may have an outdoor location in mind for your wedding; maybe your own or a family members property. If you don't, in Manchester, wedding marquee hire from us can offer some spectacular recommendations. Once the location is secured, we will set up the marquee a week in advance. That gives you time to transform it to fit your vision. We can recommend all the help you need including caterers, florists, planners and more. Our own team will assist with deciding the size and style of marquee best suited and supply many of the accessories you'll need. In addition, we will supply high quality tables and chairs for dining and for the ceremony, other furnishings you might want and catering supplies. We will provide the power supply and the lighting, heating, band stage and even flooring.
Wedding marquee hire in Manchester gives you the opportunity to create your wedding any way you want it. We are pleased to assist you in every way. The day's events can proceed at a pace you choose. The colours, flowers and other decor will be whatever you want. Seating can be comfortably spaced. A children's table can be set up so kids have room to move and enjoy their own dinner activity. It's midnight and twelve people that haven't seen each other in ages are still hanging out. No problem. Contact Signature Event Hire for affordable wedding marquee hire. Together, we'll make your wedding day as unique and memorable as you.