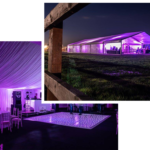 Your first step should be to find a high-quality marquee hire in Mobberley if you are planning an outdoor event in the North West, As far as outdoor events go, it is essential to put a roof over your guests' heads. The unforgiving British weather may not let it pass if you attempt to host an outdoor gathering without appropriate covering. Nothing ruins an exquisite garden party like a sudden downpour. A high-quality marquee can protect your guests and sensitive equipment from rain, wind and the intense summer heat. A marquee also acts as a functional accessory in your event where you can attach decorations, lights and sound equipment.
In many cases, outdoor events offer greater variety than indoor. In Mobberley, marquee hire is very popular for garden weddings. Garden weddings take advantage of nature and invite colours, sounds and aromas into your event. Green grass, bright flowers, butterflies and fresh air can flow freely. Our marquees are high enough to protect you from the sun and rain without limiting the views and airflow. We also have canopy marquees to house the stage in concerts and festivals. Music equipment and public address systems are costly and extremely sensitive.  Our neutral non-intrusive stage covers can secure your equipment without distracting your audience.
In addition to marquee hire in Mobberley, we provide a range of other event equipment including furniture and accessories. Our team can provide you with lighting, decorations, and heating in the colder months. We have built a reputation for excellent customer service. Our staff is ready to work closely with you to achieve the appearance you dream of for your event. We clean all our equipment before each set up to minimise your work. We can also deliver and install the marquee up to a week before and dismantle it after your event for your convenience. This reduces the risk of delays and allows you to make timely adjustments if necessary. Contact Signature Event Hire now for more information about our services. We recognise the authenticity of each event and offer bespoke solutions to match your requirements.