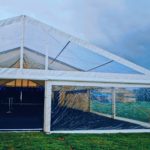 Investigate marquee hire in Knutsford if you are planning to celebrate a birthday or other festivities. The weather can be unpredictable and a sunny and pleasant day can quickly turn wet and miserable. Having a large celebration and many guests without adequate cover for them can turn the celebration into a rout with people looking for cover from the rain. Food, clothes and people will become damp and soggy and the festivities will be spoilt. Our affordable marquees prevent this from happening and you can relax knowing that you and your guests are well protected from anything the weather can throw at you. The marquee can be set up on almost any surface including concrete, sand and grass and our erection team will make sure the marquee is properly secured.
There is no need for you or your helpers to have any experience in setting up a marquee as our expert team erect it for you on your chosen site. In Knutsford, marquee hire entails telling us the amount of people you expect and we will deliver and erect the correct size marquee for you. We also have chairs and tables as well as bars and an extensive range of catering items. We also have a wide range of decorations to furnish the marquee that is appropriate to the celebration be it a birthday or a wedding or an event of any sort. We also provide marquees for festivals of many kinds where protection from sun and rain are needed.
We are known as one of the most reliable companies for marquee hire in Knutsford. Contact Signature Event Hire today and book a marquee to ensure your celebration or event is safe from unexpected weather changes. Our marquees can be erected in almost any setting and can be hired for children's birthday parties or sweet sixteen parties. They make an ideal area for a 21st birthday party where they can accommodate as many guests as you choose to invite. Our team of friendly consultants will help you to choose all the accessories you will need to make your day successful.