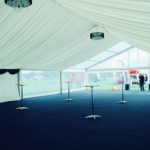 For a unique event consider marquee hire in Wirral. Event organisation is a daunting task that entails a long checklist. At Signature Event Hire, we take the burden of setting up your event so that you worry about other important issues. We are a reputable company in event equipment hire with numerous successful jobs to our name. Our catalogue of services ranges from marquee hire to putting up stages for festivals and large events. A marquee sets the mood for an event and is part and parcel of the event design. No matter the season or location, a marquee can forge the look you desire for your event. We specialise in setting up stunning marquees that are guaranteed to make your event memorable.
If you are having a birthday party, wedding or funeral in Wirral, marquee hire is a must-have on your event plan. The right marquee allows you and your guests to enjoy an event in the outdoors under the safety of the roof. Signature Event Hire makes sure the weather doesn't put a stop to your party. We understand the weather is unpredictable and sometimes the forecast is not reliable. Our marquees are certain to keep your event dry despite a heavy unexpected downpour. Hiring our marquees is a simple process and we provide advice on the best set up depending on the number of guests expected, the design of your event. No matter how big or small your event is, we have the right marquee for you.
Signature Event Hire is your home for marquee hire in Wirral. We offer quality reliable services. Most events fail due to late deliveries and late preparation. We deliver timely services meeting your every need well in advance. If you are planning a weekend party, we will set up before the event day. If you have an emergency request, we have the staff and equipment to deliver despite the short notice. Contact us today and get the best set up for your event. We keep the party going.