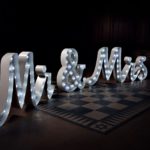 What If It Rains? At Signature Event Hire we say, wedding marquee hire in Knutsford! It's really the smart move when you have dreamed about an outdoor wedding your whole life. Not once in any of your dreams did it rain, right? Well maybe it won't in reality either. In that case, you still have the festive castle like marquee on the landscape with flags flying to welcome your guests. Throw up the sides for the breeze to pass through while enjoying the comfortable shade under the marquee for your wedding feast. We can put down a floor for easy walking in fancy shoes and/or a dance floor and bandstand. We'll run the power and hook up a water tank so your caterers and band can cook, serve and plug in their instruments.
Do you have a venue, florist and caterer for your event? In Knutsford, wedding marquee hire from us can make some suggestions you'll probably like. When you hire your marquee and tell us the number of guests you're expecting, we can recommend the best size. We also have the dining tables and chairs and other items you might need. We set the marquee up for you the week before your wedding day and in that week, you can turn it into your dream-wedding theme. An outdoor venue with our marquee opens up so many possibilities not available at an indoor venue.
A wedding marquee hire in Knutsford means you get to make the decisions. At the indoor venue you get to select from 3 bland choices for decor, crowded tables to accommodate the servers instead of your guests and you have to be out of there in four hours. Everything is scheduled from your entrance to hors d'oeuvres, dinner, cake cutting, toasts, dance and leave after you hand over a fresh credit card to max out. You can save a lot of money with a wedding marquee if you, your family and friends want to pull something spectacular together yourselves. Contact Signature Event Hire, and don't worry about the morning after. We'll be there to dismantle and remove the marquee. Besides, what if it rains?