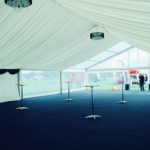 With the right marquee hire in Cheshire, you can enjoy the outdoors while partying under the security of a roof. When it comes to marquees, there's no limit to the design and styles that you can come up with, and if you've always wanted a marquee for your party, wedding reception, or even corporate gatherings, don't hesitate to get in touch with our experts at Signature Event Hire. We have been in the industry for decades, and rest assured, we have the skills and the knowledge to provide you with a stunningly beautiful marquee for a truly memorable event.
Our team is comprised of structural engineers, operations and events specialists, experienced grounds people, and caterers. In Cheshire, marquee hire can prove to be less expensive than renting a wedding hall. With the experience of our team, we will turn your backyard or even a beach location or a garden into a lovely area that can accommodate all of your guests without the area feeling too compact. We can go as small as you wish, or as big. There is no limit, and if you will be having a band, don't worry, we can easily arrange for a podium, install speakers and all the required electrical components. In addition to that, we have a large stock of furniture, in different colours and styles, as well as a bar and cutlery, to provide you with an outstanding and all-rounded service. Our marquees come complete with heating flooring, lighting, and with the various marquee accessories available, we can make your event even more special.
Take advantage of our unique marquee hire in Cheshire to give your event a real sense of the occasion. With a marquee, you have the flexibility to create the setting that you want, regardless of the time of the year, at the venue of your choice. For more details about our marquee hire, contact Signature Event Hire. Hiring a marquee is a very simple process. You can rely on our team to assist you with the theme, the installation and the taking down after the event so that you can really focus on enjoying your party!