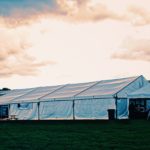 Marquee hire in Bowdon is an ideal alternative if you are concerned about weather conditions during your event. Your event may be over a sunny period but the weather might take a turn for the worse without any warning. With a marquee, you can have your guests sheltered from the rain without any problem. Alternatively, the weather may co-operate and remain nice and sunny, but it could get too hot outdoors. With proper cover, you and your guests can still enjoy your event to the maximum and focus on creating the memories that will be remembered fondly for years to come.
Whether you're hosting a graduation party or a wedding, a birthday or even a simple get-together, have your guests enjoying themselves by providing the best venue. In Bowdon, marquee hire is simple and is made possible thanks to Signature Event Hire. We provide an extensive service that goes beyond the hiring process. We provide a dedicated team that will handle the set-up and takedown of the marquee before and after the event so you don't have to worry about that process. Before the planned date of your event, we'll sit down with you to discuss your requirements. In this way, we'll gain an understanding of what your needs and expectations are. This will put us in a better position to give you the best advice when it comes to the size of the tent and other requirements. We can also provide furniture that can be used in the marquee for both a formal and informal setting.
Other items that we provide along with the marquee hire in Bowdon include lighting, heated flooring and an extensive range of catering items. Should you need any of these items, let us know and we'll be sure to arrange them for you. Contact Signature Event Hire today to find out more about our marquee hire. With our combined experience of more than 20 years in the industry, you can be sure to be working with professionals who will strive to make your event a success and definitely one for the books. We look forward to working with you.