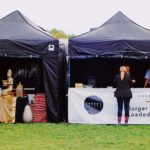 There is always a need for marquee hire in Alderley Edge. Our weather is frequently variable and you may plan an occasion where the weather forecast promises fine weather only to find that within hours it has changed and is raining on your elaborately decorated party. Our marquees are erected for the purpose of keeping off sun and rain and making your event comfortable and enjoyable for all your guests. We supply chairs and tables which can be used for an elaborate garden tea or for the reception after a wedding. We can supply a dance floor or a stage depending on your needs. The marquee can be decorated to suit your event in your choice of colours and decorations. We can also supply lighting and a PA system at very reasonable prices.
We ensure that all our equipment is hygienic and scrupulously clean at all times. In Alderley Edge, marquee hire teams can erect the marquee on any type of base. Our professional erection team can securely place the marquee on grass, sand, concrete or tiles. The marquee also comes with a floor installation to make it easy for guests to walk on. We have our own structural engineers who design the safe building of larger items such as stages and seating for festivals and large events. We can provide all the necessary equipment and structures for a large music festival or market with crowd control and traffic barriers.
We supply sturdy and reliable marquee hire in Alderley Edge for small, medium and large events and festivals as well as weddings. Contact Signature Event Hire today for all your parties. We have a combined experience of over 30 years in the business and our team consists of structural engineers, operations and events specialists and highly experienced grounds people. We have the facilities and experience to provide the perfect setting for any size event or festival. This includes stages and VIP areas as well as bars and seating. We have a wide array of accessories which includes beautiful table cloths, special lighting in a wide variety of shapes as well as decorations to finish off the marquee to perfection.