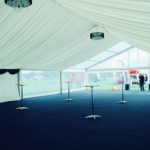 Organising a wedding can be challenging, so we can provide wedding marquee hire in Chester along with helping you plan your colour schemes, and layout. This can include choosing the size of the marquee you need depending on the number of guests and deciding on the appropriate flooring for the seating and dancing. We have a wide range of furniture that can be dressed to make a perfect show in the colour of your choice and drapes in your chosen colour as well as music, bars, catering and facilities. This way you can choose to hold your wedding reception anywhere you like. Near a lake, in a park or beautiful garden wherever you want to hold the function.
We stock a large and diverse range of furniture hire items, displays and bars. In Chester, wedding marquee hire has helped to build our phenomenal reputation on providing the highest level of service to all our clients and paying extreme attention to detail especially where weddings are concerned. You want your wedding to be supplied with the highest quality furniture and the best decorations so that you can be proud of the final look of the reception. Our Marquee Production Team will be onsite to deliver useful and friendly advice throughout your special day and will both set up the marquee before the event and remove it when the function is finished so you need have no worry about sorting out the return of the rented items after the function.
We are the top company supplying wedding marquee hire in Chester as we supply so much more than just marquees. Contact Signature Event Hire today and find out how we can help you plan your perfect day or an important company function. We have a wide range of marquee accessories to make your event even more special. These include lighting, floor heating and an extensive collection of furniture in pristine condition as well as catering items. Our team specialises in aiding the organisation and arrangement of all the necessary items to allow your event to function perfectly.