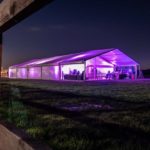 Consider marquee hire in Liverpool for a truly memorable event. A marquee offers many benefits, especially if you feel stuck for choice with the venues on offer. Hiring a marquee gives you freedom of choice, allowing you to pick any venue that you prefer. This in turn may meet both your preferences and budget. Oftentimes, the available venues may limit you in terms of numbers, and convenience. In a hall or a restaurant, for example, only a certain number of guests can be accommodated. There is also the added inconvenience of sufficient parking for the guests who come by car. With a marquee hire, you can have your event where you choose – from the beach, countryside, open ground, or even Grandma's back garden!
For your upcoming event in Liverpool, marquee hire allows you more creativity in setting up your event. When you hire a conventional venue, you will be restricted by the décor that is in place. The curtains, wall colour, and theme may not be what you have in mind for your own event. With a marquee, you have the freedom to decorate as you wish, according to your own tastes and preferences. Another aspect worth considering is your choice of caterers. By hiring a marquee, you get to choose the caterers who are best suited to your event. You won't have to rely on the venue's caterers. If you are keen on hiring a marquee for your event, speak to us today. We have a wide selection of marquees, all of which are suitable for any event. Our expert team are on hand to advise and guide you in your selection of marquee for your event. We will also set up your preferred choice of marquee prior to the event, and dismantle it once your event is complete.
Marquee hire in Liverpool is an economical and cost-effective choice. For more information about how we can assist you with marquee hire, contact Signature Event Hire today. We also stock a large range of furniture hire items, as well as displays and bars. Should you require it, we can supply lighting, heating,  flooring, including furniture and catering items. Impress your guests at your event with a stunning marquee.