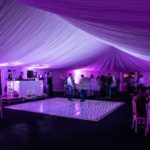 It's wise to think of top-quality wedding marquee hire in Alderley Edge if you have a summer celebration in the offing. Signature Event Hire would be delighted to partner you in these special moments of your life and ensure that they're as perfect as you dreamt of. We have a wonderful range of premium quality, impeccably appointed clear-span marquees and excellent marquee structures to suit your needs, preferences and budget. These products are the ideal choice for special events like weddings, festivals, sports events, or other celebrations. We also offer a range of matching furniture and accessories to complete the picture. What sets us apart from others in this business is our commitment to exploring new technology, exemplary quality, practical and sensible pricing options and a truly customer-centric approach. No matter how big or small the event, we're glad to be a part of it.
For almost-weds in Alderley Edge, wedding marquee hire is the first step in planning your event. You can analyse the main aspects of the event before you talk to the marquee hire company. This helps you to get a handle on how many people the marquee should accommodate, the time and place, kind of décor you want, and the theme and leitmotif you have planned for the entire event. Marquees are a fantastic way to showcase your personality, the significance of the event and how much you value your guests. With an almost blank canvas feel to it, you're free to decorate and style the venue just the way you want. Our top-quality all-weather marquees can be set up on any surface including grass and tiles and you can add a special dance floor area to spice things up.
While planning your wedding marquee hire in Alderley Edge we can assist you with other aspects like lighting. You can create a fairyland atmosphere with pretty statement lanterns and strings of coloured lights. For more details about our wedding marquee hire, contact Signature Event Hire today. You can alter the marquee to suit weather conditions. For instance, open-sided marquees are great for beating the heat in summer, while discreet heaters and temperature control can keep you warm on wintry days, dry and protected on rainy ones.