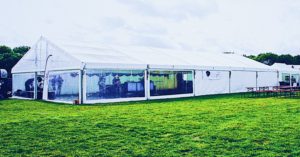 Kick up your event a notch by hiring the experts for a marquee hire in Prestbury. With a marquee, you will have plenty of flexibility, as in, you can build it the way that you want without worrying about space or the number of people that it can hold. The great thing with a marquee is that it can be easily adjusted to accommodate a large number of people, and keeping people flowing to and from different areas. Whether it's a fund raiser, a simple garden party or a wedding, our marquees feature many jaw-dropping appearances and come complete with floor installation.
Talk to us if you are looking for a complete installation that includes several varieties of chairs, sound system, a bar, tables, lighting, heating, and staging. In Prestbury, marquee hire can be more cost-effective than hiring a hall. We come complete with everything you will need for a successful and memorable event, and if you have something in mind, don't hesitate to inform us. We have a structural engineer on the team, as well as event specialists, so rest assured, you will have the best team to plan your marquee structure, and whether it's grass or concrete, we can work with different types of surfaces as well. Our marquees can be adjusted to accommodate different group sizes, and they are suitable for weddings, festivals, small gatherings, and concerts. We can also adapt our marquees to reflect the unique character of your event, and when you speak to us, it is easy. All you need to do is tell us your needs, and we will work with our team to plan the most suitable marquee for your needs.
For cost-effective marquee hire in Prestbury, contact the professionals. To find out more about our marquee hire or to request a quote, contact Signature Event Hire. We take great pride in delivering an effective and professional service. Whether your event is small or large, add to the 'wow' factor with one of our extraordinary marquees.  Should you be interested, we also offer a range of marquee accessories. These a range of furniture as well as catering items.