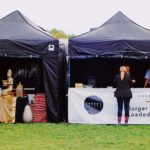 If you're looking to put a little sizzle in your party, marquee hire in Knutsford from Signature Event Hire has sizzle to spare. Do you remember watching the circus tent go up and the anticipation of the magic to come? If so, you know just the sight of a marquee inspires the imagination. It's a blank slate where you can create a special atmosphere for any occasion. Arriving guests feel excited at the first sight of the marquee and can't wait to find out what's waiting inside. If you've ever booked a venue for a birthday party, anniversary or graduation celebration then you know in three or four hours everybody has to be out. The party ends and you feel bad because you never got a chance to speak with some people or spend the time together you wanted too.
Perhaps you're part of the party after the party crowd. If so, then in Knutsford, marquee hire is perfect. Most of guests gradually wander on home after a few hours but then there's that core of people who band together as the party starts to wane, completely focused on each other. They still have things to talk about and they're not ready to leave yet. Maybe they haven't seen each other for a while. Maybe some couldn't attend until later. When your party is in a Marquee at one of our venues, they can stay until the sun comes up again. It's amazing how much pressure is relieved knowing, as the host, that you are not staring down a time limit and hoping the guests will cooperate. You'll have time to spend with everyone throughout the party.
Our marquee hire in Knutsford come in all sizes to accommodate as many guests as you choose. If you love theme parties you'll have a great time transforming the interior of the marquee into a haunted house, princess castle, or recreating a specific decade for anniversaries and class reunions. Our marquees are great for children's parties because you can schedule games, treats and activities you wouldn't want in your own home. Contact Signature Event Hire and we'll help you choose the right marquee for your party, your venue or ours. Leave it us; we'll set the marquee up at your designated venue the week of the party and dismantle it when you are finished with it.