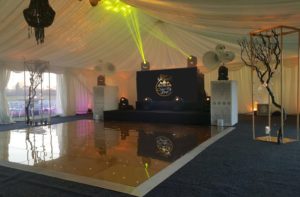 We specialise in equipment and marquee hire in Chester for any and all events. If you are an events planner we can be of great assistance to your business as we understand the importance of supplying premium quality furniture. Our company can also supply bar rentals as well as lighting, heating and flooring for the event you are planning. We have an extensive range of catering items and our helpful and friendly team can aid you in creating the perfect event for a company function or a wedding. Our experienced crew will make sure that the marquee is erected to the highest safety standards and is properly secured so that it will not collapse or be blown away keeping all your guests warm and happy in the setting of your choice.
We have a dedicated team to set up the hire equipment at your venue. In Chester, marquee hire employees will erect the marquee in the area you have chosen and remove it when the function is finished. Our marquees can be used in a number of different ways depending on your needs. They can be used as part of a festival as a VIP tent or a security office or perhaps a first aid tent. They make ideal press tents or part spaces and can be erected as a promotional area. One of our favourite events is weddings where we help you to celebrate your special day. Our marquees allow you to create your own unique look. The use of the marquee is limited only by your imagination and you can create your own colour scheme with the layout and design to suit the look you require.
We have many years of experience in supplying the perfect marquee hire in Chester for all of your functions. Contact Signature Event Hire today and book a marquee and equipment for your special celebration. Our marquees can be erected in almost any setting and can be hired for children's birthday parties or sweet sixteen parties. They make an ideal area for a 21st birthday party where they can accommodate as many guests as you choose to invite. We also have bar hire for adult functions.