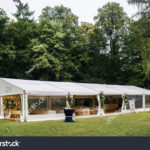 With the right marquee event hire in Macclesfield you can host a successful wedding, party or corporate convention. Everyone loves a marquee event and there's no denying that they can be a lot of fun, spectacular and memorable. Summer weddings and special events take on an extra zing when held outdoors and the right kind of marquee can add style and flexibility too. At Signature Event Hire, we offer a wide range of premium quality marquees. Our products include clear span, modern and well-appointed marquees that will certainly complement your event without being over the top expensive, in your face or distracting. With more than two decades in the business, we know exactly the right note to strike when it comes to planning and executing those special occasions.
Marquees have enjoyed huge popularity down the centuries, as they offer a customised and designated space for guests, visitors, caterers, and entertainers. In Maccesfield, marquee event hire has to be budgeted carefully as this can take up quite a large chunk of the available funds. They're a popular choice for garden parties, charity and social events, church parties, sporting events, corporate get-togethers, anniversaries, birthdays or baby-showers. Most marquee providers also offer extra facilities like event management and catering in a package form. We provide premium quality marquees for weddings, complete with flooring and are suitable for all surfaces, including sand, concrete or tiles. We also supply special, theme based furniture with options like pallet furniture, beer table sets, a wide choice of chairs, tables and ottomans in a selection of colours and textures. If you need a festival marquee, we also provide crowd-control barriers, furniture, dance floors, lighting or heating, stage, and PA systems.
While choosing marquee event hire in Macclesfield, make sure you analyse your own needs, preferences and budget first. To find out more about our available range of marquees, contact Signature Event Hire today. Our dedicated team will discuss your needs and preferences and help select the most appropriate marquee for your event.  We are proud of our personalised customer service and outstanding value for money.