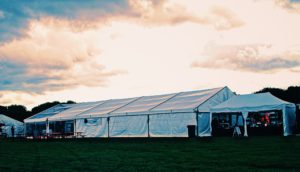 Think of  a wedding marquee hire in Wilmslow as insurance with real time benefits for your outdoor wedding and reception. We know, everybody rolled their eyes when you said you wanted a garden wedding. What could possibly go wrong? With a wedding marquee hire from Signature Event Hire, nothing we can't handle. Can you really live for six months or more with the pressure of wondering what the weather will be like on your wedding day? If you have it all planned down to the tea rose centrepieces, scarlet chair covers (they make the pictures look great!) and live band, you need more than hope for good weather. You need a back-up plan.
We can be your back-up plan with one of our beautiful and festive wedding marquee. For wedding events in Wilmslow, wedding marquee hire offers a  variety of sizes and amenities to accommodate your wedding guests. It's not a big deal to switch the wedding ceremony from the garden into the marquee in the event of rain.  Guest seating is already inside so we need only grab the wedding arch and flowers and set them up inside for a lovely ceremony. Music will muffle the sounds of rain and if there's a chill, we have heaters  and a power source. So go ahead and plan your garden wedding knowing that if the weather is not the best, the ceremony and reception will proceed in comfort.
We recommend a wedding marquee hire in Wilmslow for your garden party regardless of the weather. Have your wedding ceremony outside but guests might be more comfortable inside the marquee for the reception. You will need to consider the diversity of the guests if you want everyone to be comfortable and relaxed. Some people are extremely uncomfortable sitting in the glare of the sun. We can always roll up the sides so a breeze can drift through. If the reception is late afternoon and early evening, the air may turn cool. Younger people may not notice but the less active older guests may be very uncomfortable without a heater. Contact Signature Event Hire and let's talk about the best marquee hire to have on hand for your garden wedding. It's more than a back-up plan; it's a festive but functional asset.