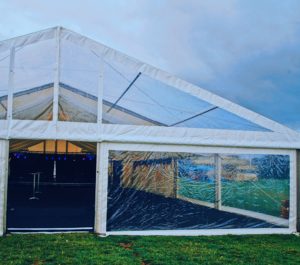 Make your party stand out with a beautiful marquee hire in Wilmslow from Signature Event Hire. Whether it's a small wedding reception or a dinner gathering, if you still haven't found the ideal venue, consider a more versatile option. You could easily turn your backyard or garden into a beautiful space simply by putting a marquee in it. At Signature Event Hire, we specialise in modern, contemporary marquee structures suitable for festivals and celebrations. With our 20 years of experience, we can turn any ordinary outdoor space into a breath-taking and cosy space to hold a varying number of guests. We offer a full service, which means you don't have to worry about tables and chairs, lighting, or sound systems.
Our experienced team can also provide you the perfect setting, whether it's a small party or a large festival. In Wilmslow, marquee hire can significantly increase your visitor turnout. If you are not certain about the number of visitors, or how the turnout will be, you can't go wrong with a marquee as it is a flexible venue. Not only can it be opened to welcome any number of guests, but they are also surprisingly spacious. Furthermore, with marquees, you have the liberty to design the space as you wish. If you haven't entirely made up your mind, you can talk to us and we will explain the benefits of using a marquis for your event. We will work on your ideal spot, and set up the marquee against the wonderful backdrop, making it a lasting memory for all your guests, and you.
Customers interested in our marquee hire in Wilmslow will be pleased to know that we offer a personalised service. We will work with each client in line with their themes and colours, make sure that they are entirely satisfied with the overall experience. For more details about our marquee hire, contact Signature Event Hire. We also have a large selection of furniture and accessories, all available at affordable prices. Make your event extra special with a modern marquee.