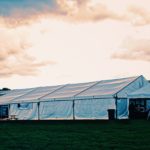 Take your event to the next level with marquee hire in Stockport. The versatility of a marquee allows it to be used in a variety of occasions, including weddings, events and festivals. The clear-span make allows you to style it how you want, using the colours you want and the materials you want. There's so much you can do with a blank canvas and marquees enable you to explore just that. The best marquees are suitable for use over a range of surfaces, including grass, tiles, concrete or even sand. You don't have to worry about their integrity when erected onto the surface. All you have to do is focus on what item to display where in order to better attract customers or how big you want the floor installation to be.
At Signature Event Hire, we pair you with a marquee that will suit your needs for the occasion you are planning. In Stockport, marquee hire is available to vendors and  wedding planners. Our booth-style marquees are a big hit with many vendors, thanks to their unique style. Pairing them with our larger size marquees enables their customers to purchase their food items and eat in comfort. We can provide furniture to go along with your marquee so you don't have to worry about working with more than one business when you can get all you need with us. When it comes to furniture, we'll work with what you have in mind. From beer table sets to pallet furniture, white picket fences to ottomans, we'll help you make your event a truly unique venture that is bound to have people reminiscing for years to come.
We take our marquee hire in Stockport, as well as our furniture hire, to heart. We strive to provide our customers with quality products. This is why we ensure to clean all our equipment before and after an event so that they remain in good condition for use. Contact Signature Even Hire for your marquee and event furniture needs. We can incorporate a number of items into your marquee, including lighting and heaters where needed.