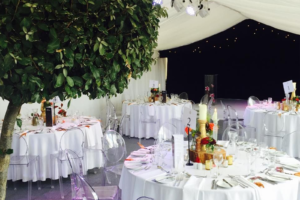 For wedding marquee hire in Cheshire for your special day, get in touch with us at Signature Event Hire. Lovely weddings do not just happen, they take a lot of time and planning, and at times, the touch of an experienced wedding planner. The great thing with marquees is that they allow anyone the freedom to design the space as they wish, and it does not matter how large the area is, there's always different options. You can literally transform simple spaces like your own backyard or a spot on the beach into a breath-taking wedding venue.
We will work with you regarding any requirements that you may have, such as lighting, colour schemes, flooring, and the decoration of the marquee. In Cheshire, wedding marquee hire is an affordable option. Our marquees are modern and can be styled in any way you wish. Our main aim is to please our clients and make sure that the wishes of the bride and the groom are fulfilled. There's nothing that we won't do to make it one of the most special days for the new couple. Furthermore, if you need additional assistance in choosing a venue, you can count on our team as they have over 20 years of experience in the field and will be happy to provide suggestions. Our team will ensure a professional installation and dismantling of the marquee, leaving you to enjoy your special event.
For a personalised, tailored service, you won't find a company better than Signature Event Hire for wedding marquee hire in Cheshire. If your big day is coming up soon, why not contact Signature Event Hire?  We'll help you choose the loveliest of marquees, the best colour schemes and setup and take all necessary precautions to handle the unexpected, including sudden weather changes. Our marquees are suitable for use on any surface, and these include sand, grass, concrete and tiles. We are pleased to say that we combine over 20 years of experience in the event industry, and will provide a personalised customer service with outstanding value for money.