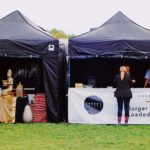 Signature Event Hire has the marquee hire in Wirral that will put the "fest" in your festival. Few people can pass up the sight of our booth style marquees dotted across the green on a sunny day. They are like a beacon announcing your annual festival; drawing folks in for a look at the crafts, food, thespian or music performances. The flags atop each booth waves a promise of excitement and fun. The vendors renting space at your event will appreciate your efforts to draw customers to your festival by adding the touch of quality our marquees represent. You're likely to draw a diverse group of top notch vendors which in turn could draw a large crowd.
Rather than just a sparse top covering, our booth style marquees are four sided. Your vendors for, in Wirral, marquee hire, have more display space using the walls if they choose. They will also enjoy the ability to roll up sides all or part way to allow a breeze to flow through. Event coordinators often leave little space between marquees. The dropped sides create a division so festival attendees can focus on the wares of each individual vendor. These events often call for a larger and private marquee for use as a first aid facility during the festival. For the comfort of festival goers it's great to have a very large marquee equipped with tables and chairs so patrons can relax and enjoy a meal out of the sun. We can supply the furnishings.
At Signature Event Hire, we have marquee hire in Wirral of all sizes to accommodate your event. Contact Signature Event Hire when planning festivals, weddings, equestrian events, graduation parties and more. We have lovely marquees that can accommodate your needs, including huge elegant marquees with windows, flooring and stages. Lighting and heaters can be included as well as tables and chairs. Let us help you create a beautiful outdoor venue for your special event. If a little sun shower passes over, your guests will be dry and comfortable inside our high quality marquee. We can offer you a quote over the phone.