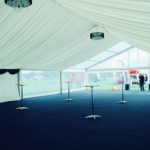 Using the services of marquee hire in Cheshire can help you transform your outdoor event from a generic look to a classier affair. These unique looking tents add a touch of luxury and accompanying them with complementary decorations will leave an impression on your guests. Whether you plan to have them in use during the day or at night, you can be sure to they will add a touch of glamour to your event. You can use them in festivals to host various vendors such as food and drinks vendors, have them as artist rest points for shows and most popularly, at weddings to host a grand reception like no other.
At Signature Event Hire, you can acquire this and other event equipment for a remarkable event, and at affordable prices. In Cheshire, marquee hire can be fulfilled, no matter the size of the tent you're looking to have. Our clear-span marquees come with modern marquee structures, giving you the opportunity to style it however you like for the occasion at hand. They also come complete with floor installation. You'll be happy to know that they are versatile in their use in that they can be erected on a variety of ground surfaces, such as grass, tiles, concrete and even sand. Decorating them with fairy lights or flower vines will add that extra touch of individuality or tie in the theme of the event with ease. When it comes to other equipment hire, we provide event flooring, white picket fences, pallet furniture and even beer table sets and a variety of chair designs, ottomans and tables in different colours.
If you're on the hunt for a marquee hire in Cheshire, why not talk to Signature Event Hire today? Contact us and let us know what you need. We will work with you in order to provide the necessities for a truly successful event. We are careful to keep all our equipment in proper order, and we ensure to clean and maintain all of it before and after every event.